Microchip FPGAs and PLDs
FPGAs And PLDs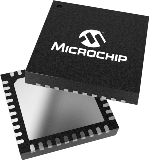 Field-Programmable Gate Arrays (FPGAs)
Overcome power, system size, cost and security challenges across all kinds of applications by selecting from our families of FPGAs. You'll find pre-built solutions for Digital Signal Processing (DSP), Serializer/Deserializer (SerDes), networking, microcontrollers (MCUs) and microprocessors (MPUs), and even analog blocks to speed design and simplify development. If your primary need is high speed, high security or high volumes, we have an FPGA for your logic integration needs.
---
PolarFire® Mid-Range FPGAs
Reduce power by 50% over equivalent SRAM FPGAs. PolarFire FPGAs combine low cost and SerDes and DSP resources to satisfy a range of high-speed and compute-intensive systems constrained by low power requirements and small form factors.
Cost-optimized, lowest power in their class
250 Mbps to 12.7 Gbps transceivers
100K to 500K Logic Elements (LEs), up to 33 MB of RAM
Best-in-class security and exceptional reliability
---
IGLOO® 2 Low-Density FPGAs
Improve design integration with low-density IGLOO 2 devices that give you more resources than other FPGAs in their class. With low power, proven security and exceptional reliability, these devices are ideal for a variety of applications.
Up to 50% lower power consumption than similar devices
PCIe® Gen 2 support in devices as low as 10K LE
Nonvolatile and instant-on
---
ProASIC® 3 FPGAs
If you are designing a high-volume application around the Arm® Cortex®-M1 processor, select the ProASIC 3 series of Flash FPGAs for a breakthrough combination of power, performance, density and features. You'll get all the benefits of programmability and time-to-market at a low cost.
Low-power devices up to 35K LEs
Ideal for CPLD replacement
Available with Flash*Freeze technology
Offered with Arm-enabled processor cores
---
IGLOO FPGAs
Meet low-power and small-space requirements of portable electronics with the IGLOO family of reprogrammable and full-featured nonvolatile Flash FPGAs. The 1.2V to 1.5V operating voltage family offers the industry's lowest-power consumption—as low as 5 μW.
Low-density FPGAs for CPLD-based applications
Low-power devices up to 35K LEs
Ideal for CPLD replacement
With Flash*Freeze technology
Available with Arm Cortex-M1 processor core
---
Fusion Mixed-Signal FPGAs
Fusion mixed-signal FPGAs integrate analog and digital functions on one chip. They contain configurable analog, large Flash memory blocks, comprehensive clock generation and management circuitry, and high-performance, Flash-based programmable logic.
Support for Arm Cortex-M1, 8051, and CoreABC soft microcontroller cores
Programmable analog with Analog-to-Digital Converter (ADC) and voltage/current/temperature monitors
Proven ProASIC 3 FPGA fabric with up to 1.5M gates and 292 analog and digital I/Os
---
---
---
---
---
---