Cissoid SiC Intelligent Power Modules
WHY
Silicon Carbide (SiC) Power Transistors are now offering outstanding performances versus their silicon counterparts: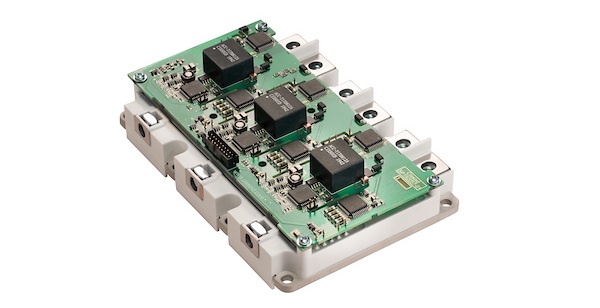 Their low on-resistance at high blocking voltages, high switching speed and thermal performance allows system engineers to achieve significant gains in size, weight and efficiency for motor drives and battery chargers, in electric vehicles (EV) for example. The continuous drop in pricing is making SiC a mainstream technology. However, an important challenge for the adoption of SiC and other wide bandgap transistors in high power applications is the availability of well-optimized power modules as well as the learning curve in reliably driving them.
Intelligent Power Modules answer both challenges by offering highly integrated plug-in-play solutions accelerating time-to-market and saving engineering resources. Transitioning to SiC is a long journey that can be shrunk drastically by adopting our SiC Intelligent Power Module platform, benefiting from more than 10 years of expertise in the development of SiC power modules and gate drivers.
WHAT
A 3-phase 1200V SiC MOSFET Intelligent Power Module platform integrating the power switches and gate driver based on the CISSOID HADES2® chipset.
These modules address high power density converters offering a SiC power module designed for operation at a high junction temperature (up to 175°C). This solution gives access to the full benefits of SiC technology to achieve high power density thanks to low switching losses and high temperature operation.
The integration of the gate driver together with the power module gives direct access to a fully validated and optimized solution in terms of switching speed and losses, robustness against dI/dt and dV/dt and protection of the power stages (Desat, UVLO, AMC, SSD, Anti-overlapping).
The platform includes 3 modules with pin fin AlSiC baseplate for liquid cooling with different current rating allowing to find the best trade-off between cost, conductive and switching losses. It also includes a flat AlSiC baseplate module for applications where liquid-cooling is not an option.
Part Number
Description
Max Vds
Max Idc
Typ. Ron
Baseplate
CXT-PLA3SA12340AA
3-Phase 1200V/340A SiC MOSFET Intelligent Power Module - Pin Fin AlSiC Baseplate (Liquid cooled)
1200
340A
4.19 mOhms
Pin Fin
CXT-PLA3SA12450AA
3-Phase 1200V/450A SiC MOSFET Intelligent Power Module - Pin Fin AlSiC Baseplate (Liquid cooled)
1200
450A
3.25 mOhms
Pin Fin
CXT-PLA3SA12550AA
3-Phase 1200V/550A SiC MOSFET Intelligent Power Module - Pin Fin AlSiC Baseplate (Liquid cooled)
1200
550A
2.53 mOhms
Pin Fin
CMT-PLA3SB12340AA
3-Phase 1200V/340A SiC MOSFET Intelligent Power Module - Flat AlSiC Baseplate
1200
340A
3.25 mOhms
Flat
PERFORMANCE
The 3-phase 1200V SiC MOSFET Intelligent Power Modules platform features:

Power Devices Junction Temperature: -40°C to +175°C
Gate Driver Ambient Temperature: -40°C to 125°C
Drain-to-source breakdown voltage: 1200V
Low On Resistance: 2.53mOhms to 4.19mOhms typ.
Max continuous current: 340A to 550A at Tf=25°C
Thermal resistance: 0.15 °C/W typ.
Switching Energy@ 600V/300A: Eon=7.5mJ to 9mJ/Eoff=7mJ to 7.4mJ
Switching frequency: 25KHz max
Isolation (baseplate - power pins): 3600VAC @50Hz (1min)
Common mode transient immunity: >50kV/μs
Low parasitic capacitance (primary-secondary): typ 11pF per phase
Driver Protections:

Voltage Lockout (UVLO)
Desaturation Protection
Soft Shutdown turn-off (SSD)
Negative gate drive (-3V)
Active Miller Clamping (AMC)
Gate-Source Short-circuit Protection
SIC 3-PHASE INTELLIGENT POWER MODULE
CISSOID is working with partners in offering a highly integrated SiC Inverter Platform.
Together with the company Silicon Mobility, CISSOID is offering the OLEA® COMPOSER - T222 SiC Inverter Starter Kit that mechanically and electrically integrates the T222 FPCU controller board and application software from Silicon Mobility together with 3-Phase 1200V/550A SiC MOSFET Intelligent Module from CISSOID. The kit offers: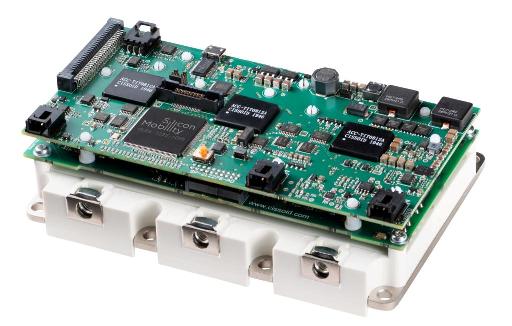 CXT-PLA3SA12550AA SiC Inteligent Power Module
A controller board based on OLEA T222 FPCU
ISO-26262 ASIL-D Design-Ready Certified
Advanced control algorithms for highly energy-efficient systems
Closed-loop control based on Field Oriented Control and variable SVPWM switching up to 50 kHz with short dead time compensation
Download advanced information on the OLEA® COMPOSER - T222 SiC Inverter Starter Kit.
For the controller to be used Software licenses from Silicon Mobility are required to reduce the engineering & development time for your project. Please contact Silicon Mobility directly for a quote on these licenses.
Thermal 3D Cooler
For rapid evaluation of pin fin power modules, CISSOID has developed a 3D-printed reference cooler described in a dedicated application note.
Users can either download 3D printing file or purchase the reference cooler kit. To support inverter and power converter design, CISSOID also provides 3D step files and LTspice models its power modules.
Integrated DC Link Capacitor & Bus Bar
In cooperation with the company Advanced Conversion Inc & NAC SEMI, CISSOID offers high performance DC-Link capacitors capacitors mechanically integrated with our SiC Intelligent Power Modules. These capacitors offer low ESL and low ESR for fast switching SiC transistors and for high power density.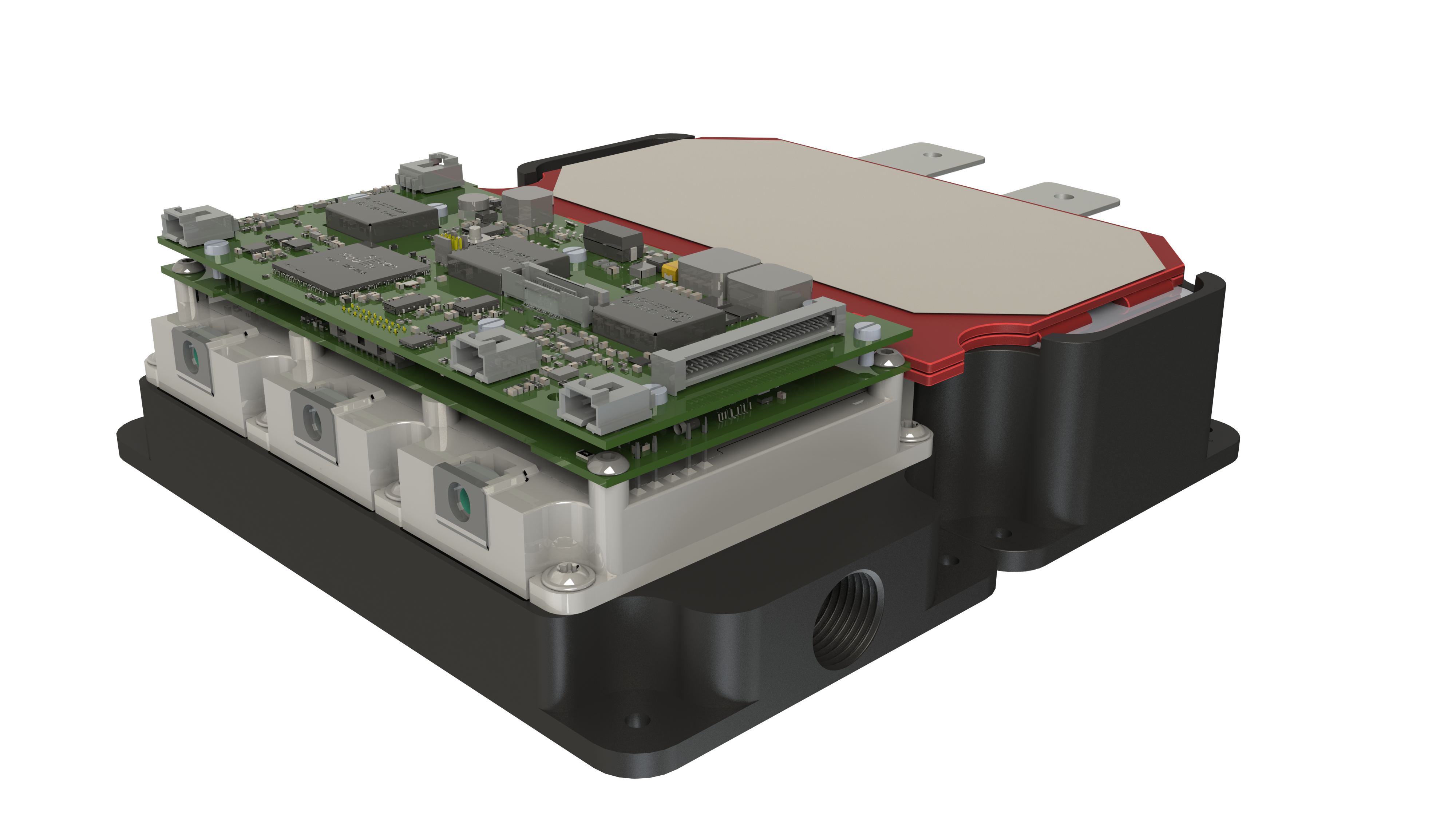 A 6-pack capacitor module test kit has been developed offering low inductance connection be-tween the capacitor and the IPM through an optimized busbar. Here also, multiple capacitor values and voltage rating are available. High temperature film options are also available to increase the rating.
This capacitor module enables compact design inside inverter housing. The capacitor can also be flipped to allow cooling through the busbar for improved thermal performance, which can increase the capacitor rating by a factor of two or more.
These test kits allow for rapid prototyping of the topology without major investments in time and engineering resources. There are also options available for addition of thermocouple for temperature monitoring. Contact NAC for additional details.
*For other capacitances and voltages, please contact NAC.
| Test Kit # | DC Voltage (VDC) | Capacitance (&microF) | ESL at Terminal | Operating Temperature (&degC) |
| --- | --- | --- | --- | --- |
| 700A360 | 500 | 500 | <8nH | 105&degC |
| 906A116 | 500 | 550 | <8nH | 125&degC |
| 700A361 | 750 | 260 | <8nH | 105&degC |
| 906A115 | 750 | 320 | <8nH | 125&degC |
| 906A117 | 900 | 135 | <8nH | 125&degC |
Complete SiC Inverter Reference Design
CISSOID and Silicon Mobility have announced a far-reaching partnership to deliver a complete and modular Silicon Carbide (SiC) inverter reference design supporting electric motor drives up to 350kW/850V. The reference design includes CISSOID's high voltage SiC-based power module, integrated Gate Driver board, Control board with Silicon Mobility's ultra-fast and safe OLEA T222 FPCU, DC and phase current sensors, DC link capacitor and EMI filtering together with integrated liquid cooling. CISSOID will also sell and deliver Silicon Mobility's OLEA® APP INVERTER Software for Electric Vehicle Powertrain Control providing the customer with a development platform ready for integration work.
Following this agreement, customers can now buy a complete SiC inverter reference design together with a license to use the Silicon Mobility's OLEA® APP INVERTER control software and design on top its software application. CISSOID will also provide the technical support to integrate the inverter into the end-application.