AgileSwitch, LLC
As a AgileSwitch distributor, NAC supplies AgileSwitch's complete line up of leading edge IGBT & SiC mosfet gate drivers and power stacks.
AgileSwitch is addressing the increasing demand of renewable, high-efficiency energy applications. Solar inverters, wind turbines, and hybrid electric vehicles are a few examples of where our technology thrives. The IGBT market is rapidly growing and creating a requirement for more efficient and reliable IGBT gate drivers. AgileSwitch Plug and Play IGBT drivers provide maximum performance and reliability for Industry Standard IGBT switches and enable unparalleled flexibility to optimize the electrical characteristics of the IGBT module.
By leveraging high speed FET driver technology and magnetics expertise, AgileSwitch IGBT drivers can capture up to 8 distinct fault conditions. The programmable CPLD chip on the driver also provides customers with the ability to characterize the switch to fit into any application. Additionally, the drivers have higher wattage and current outputs than existing drivers in the market.
Silicon Carbide (SiC) MOSFET Gate Drive Boards !!NEW!!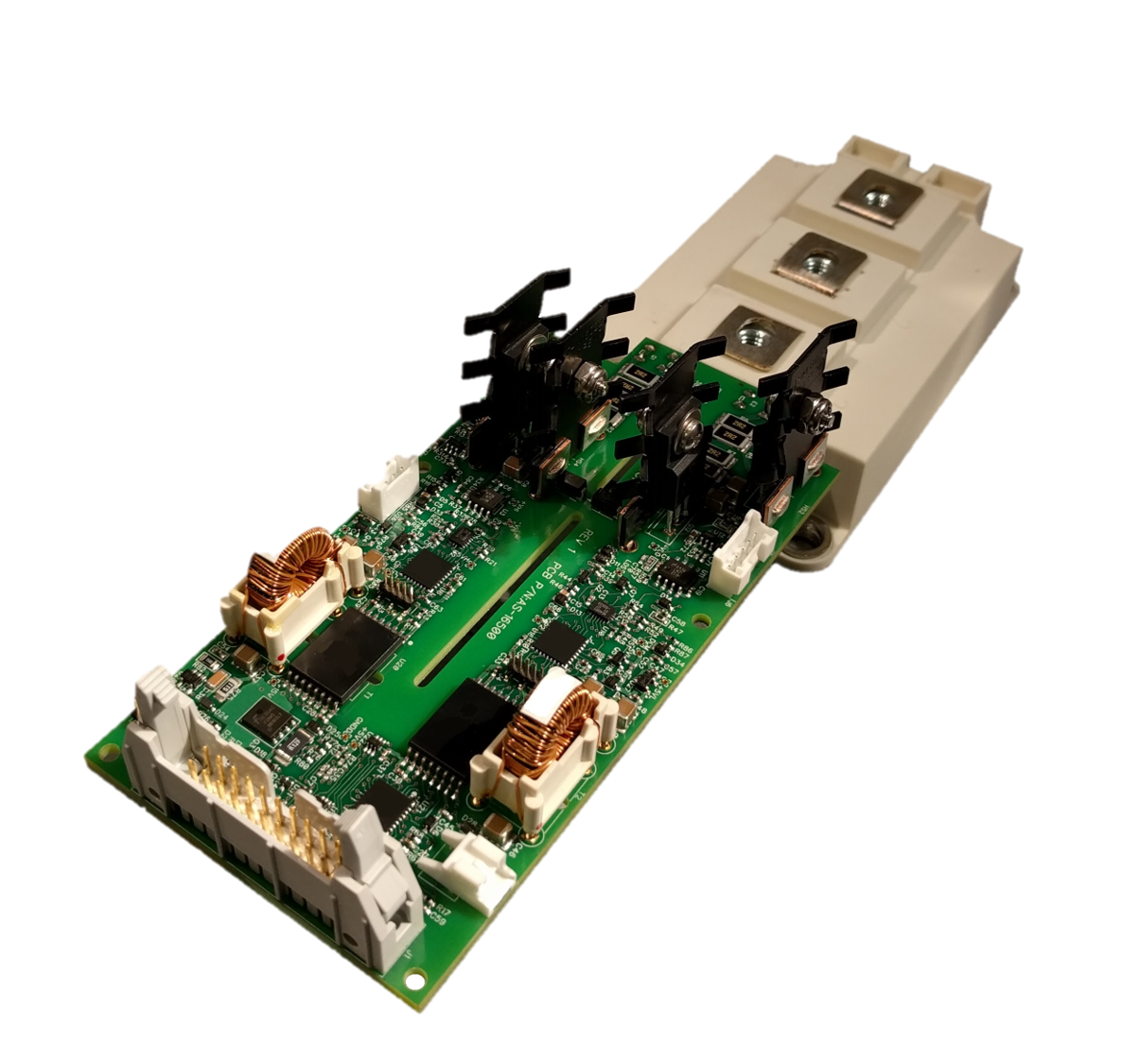 AgileSwitch has developed a patent-pending line of programmable Gate Drive Boards (GDBs) that address these problems, controlling the turn-off di/dt by varying the gate voltage level and dwell time to one or more intermediate levels during turn-off. This process is typically referred to as Augmented Turn-Off or ATOff. In addition, AgileSwitch software configurable GDBs report out 7 unique fault conditions along with Temperature and DC Link Voltage. The combination of these effects will help drive growth in adoption of SiC devices.
For more information & ordering, please visit our AgileSwitch SiC mosfet gate driver detail.
IGBT Gate Driver Products
AgileSwitch Plug and Play IGBT (Insulated-Gate Bipolar Transistor) gate drivers are designed to work with Industry Standard high voltage IGBTs in a wide range of demanding applications. AgileSwitch IGBT drivers are among the most efficient in the industry, which is critical in the use of IGBTs in renewable energy applications such as solar inverters, wind turbines, hybrid electric vehicles, motor drives, etc. AgileSwitch drivers also provide higher power output, thus eliminating the need for multiple gate drivers in parallel IGBT application. Furthermore, AgileSwitch drivers also provide up to 8 distinct fault signals and monitoring capabilities, and coupled with higher switching speeds and frequencies, support easy customization to fit any application.
IGBT Module Styles Supported

HPM/IHM/IHV/HiPak - Voltages - 1200V/1700V/3300V & Currents- 800A-3600A
EconodualTM - Voltage - 1200V/1700V - Current 225A - 600A
PrimePackTM Fiber - Voltages - 1200V/1700V & Current - 600A-1400A
PrimePACKTM Slave Series

In any IGBT parallel system the on/off timing of the IGBT is critical. Any difference can result in initial current mismatch in the IGBTs, and that creates additional stresses on the IGBTs that can lead to premature failure. In a parallel design that uses all masters, there are more components in the path from the host gate trigger to the IGBT gate drive. With the AgileSwitch Master Slave solution, a single master generates a pre gate drive signal that is only one step back from the final gate drive signal. This means there are less components in that path resulting in minimal timing mismatch in production.
The AgileSwitch master has been designed to have sufficient output wattage to supply both it and the slave. This makes each IGBT drive have identical voltage supplies further reducing mismatch and at the same time reducing cost.
The AgileSwitch Master solution is not impacted by the inductance of the pre-gate driver signal from the master to the slave since this pre-gate drive signal is less than .5 amps. At this low level the stray inductance of the leads from the Master to the Slave will not have any impact.
AgileStackTM Power Stack - "The Stack that Talks Back"
Current standards in IGBT power stacks limit information flow to the host controller, restricting the ability to adequately monitor all functional aspects while the power stack is in service. AgileSwitch, LLC has announced the availability of its new serial communication protocol that allows better monitoring of IGBTs for improved performance and reliability. The company is demonstrating this capability in the new AgileStack™ system.
The AgileStack™ utilizes a differential high-speed interface between the IGBT gate drive board system and controller. This enables 45 unique points of fault controls, monitoring and reporting, including, for each IGBT Half Bridge (both HI and LO), Dsat, Overshoot/Active Clamping, UVLO, Gate Acknowledge, Cross Latch/Shoot Thru, DC Link Overvoltage, Overcurrent, Over temp, DC Link Voltage, Current, and Temperature. In conjunction with the National Instruments General Purpose Inverter Controller (GPIC) Rio, the AgileStack™ can support enhanced data monitoring and predictive analytics to constantly adjust system performance to prevent system failure and to extend service life.
For more information, download the brochure or call NAC today - 1.866.651.2901
SmartPower StacksTM
SmartPower Stacks provide the following type of power conversion - DC-AC, DC-DC, AC-AC, AC-DC - and are rated in the 50kW to 125kW Range. The SmartPower Stack offering consists of 3 IGBT modules, separate gate drive boards for each module, an interface board that monitors and controls the gate drivers and separate current sensors, a heat sink, bus bars, capacitors (optional) and a controller board (optional) that monitors and controls the behavior of the SmartPower Stack. The SmartPower Stack can be configured as a drop in replacement for the SkiiP3TM. This project was completed by a consortium of Fuji Electric, Methode Electronics, SBE, National Instruments, and AgileSwitch. Each were selected for their high quality products and engineering capabilities.
For more information, download the brochure or call NAC today - 1.866.651.2901
Presentations
*AgileSwitch Logo, SmartPowerTM & AgileStackTMis a trademark of AgileSwitch, LLC. EconodualTM and PrimePACKTM is a trademark of Infineon Technologies Ag., HPMTMis a trademark of FUJI ELECTRIC CO. Ltd.