NAC Semi Named one of Top Workplaces in Tampa Bay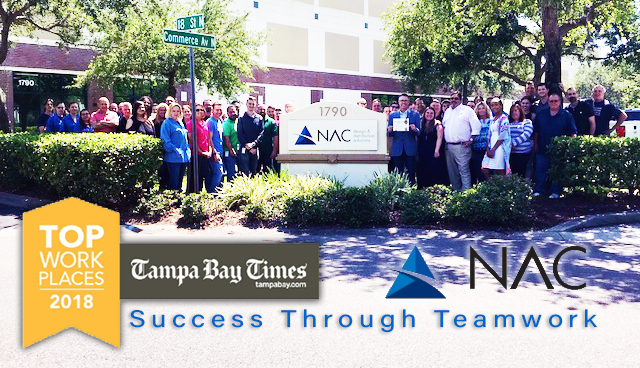 May 8, 2018 — NAC Semi was recently named one of Tampa Bay's Top Workplaces 2018 by the Tampa Bay Times.
NAC's employees nominated us and were surveyed about several topics, including practices and policies that make these companies the top places to work.
In the Tampa Bay region, nearly 190 leading employers were nominated by their employees. To be considered for participation, companies or government entities had to employ at least 50 workers in Florida and be at least a year old.
The Top Workplaces 2018 in Tampa Bay program was created by the Tampa Bay Times and Energage.
The companies were ranked based on leadership, compensation and training, workplace flexibility, and diversity. The rankings were published today on TampaBay.com and will be featured in the April 8 edition of the Tampa Bay Times and on April 9 in tbt*.
"This is the ninth year we've been able to simultaneously shine the spotlight on some terrific workplaces and draw lessons on what it takes to be successful," said Times Business Editor Jeff Harrington. "We're especially heartened to see such a healthy mix of newcomers and repeat standouts, underscoring the diversity and vibrancy of the local economy."
For a complete list of the 2018 Top Workplaces in Tampa Bay, click
here.
About the Tampa Bay Times
The Tampa Bay Times is widely considered one of the Top Ten newspapers in America and has won 12 Pulitzer Prizes. It is Florida's largest newspaper, with an average circulation of 390,912 on Sundays and 239,913 daily (Q1 2017 AAM Report). The Times also publishes tampabay.com - Tampa Bay's largest local news Web site with about 3.1 million unique visitors each month (comScore January 2018) and tbo.com. Additionally, the company publishes the free daily tbt*, an edition of the Tampa Bay Times, FL Trend and Bay magazine. The Times also offers special events, specialty publications, and targeted advertising programs.
About NAC:
NAC is a global electronic component design services & distribution company. Our rapidly growing linecard is being assembled to support the design needs of specific market segments including Mil-Aero, Industrial, Audio, Computing, Lighting, Medical, Telecom/Networking, Power, and Wireless. With resources that begin with Field Sales Engineers and extend to our Global Sales offices, NAC is building an infrastructure that ensures the highest level of service for our customers and authorized suppliers.
NAC Global Headquarters: 1790 Commerce Avenue, Saint Petersburg, FL 33716 TF- 866.651.2901 P- 727.828.0187 F-727.828.0160
NAC and its logos are registered logos to NAC Group, Inc. All product names noted herein may be trademarks of their respective holders.