Microchip Microcontrollers, Digital Signal Controllers and Microprocessors
&nbsp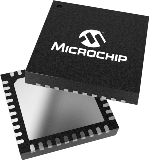 Effortless Embedded Control Solutions
Effortlessly meet the ever-changing requirements of modern electronics with our portfolio of scalable 8-, 16- and 32-bit microcontrollers, digital signal controllers and microprocessors. Flexible peripherals and functions make it easy to create differentiated applications that set you apart from your competition. Our intuitive design environments and visual configuration tools provide a straightforward getting started experience while proven reference designs and professionally-tested software libraries lower your design risk.
Scalable Performance
Don't let changing application requirements force a complete redesign. Microchip is the only semiconductor supplier innovating across 8-, 16- and 32-bit microcontrollers (MCUs), digital signal controllers (DSCs) and microprocessors (MPUs), providing the ultimate selection in scalable performance. There's also no need to learn a new ecosystem or start your code from scratch since the Microchip development ecosystem allows you to leverage a common ecosystem across multiple designs. This allows you to preserve your investment in code development by reusing your application firmware, even when your design requirements change.
Microchip Microcontroller and Microprocessor Products
---
---
---
---
---