Degson's Terminal Blocks for the Solar Photovoltaic Industry
Degson has released the DR271V and DR271R series terminal blocks designed specifically for solar applications. The development team of this product made sure to make a product robust enough to handle harsh environments, long-term UV radiation, hi-temperature, and challenging environments including sand, dust, wind, and rain.
The DR271V and DR271R series provides terminal blocks that are corrosion resistant, rust proof, stable clamping force, high strength, and utilize stainless wire clamps to ensure excellent performance for all environments a solar field may be developed and built in.
Application

Advantages
DG271V/R-5.0/7.5/10.0
DG270-10.0

Push-in spring structure, tool free and fast connection
90°, 180° wire entry is optional
Patent Number: 201120208772.6
Max wire range: 16 mm2

Spring cage structure, good vibration resistace
Patented button, convenient operation
Patent Number: 201520325682.3
Max wire range: 16mm2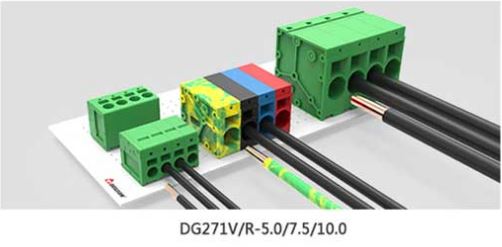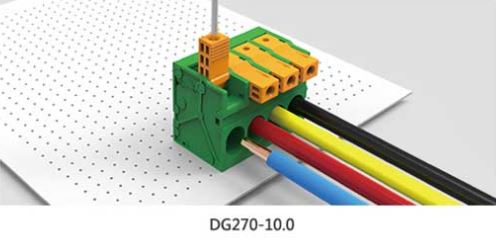 Technical Data
| Model | Wire Range | Number of Poles | IEC6094 Rated Voltage(V) | IEC6094 Rated Current(A) | UL1059 Rated Voltage(V) | UL1059 Rated Current(A) | Datasheet |
| --- | --- | --- | --- | --- | --- | --- | --- |
| DG271V-5.0 | 0.2-2.5 mm2/24-12 AWG | 1P - XXP | 400 | 24 | 300 | 20 | |
| DG271R-5.0 | 0.2-2.5 mm2/24-12 AWG | 1P - XXP | 400 | 24 | 300 | 20 | |
| DG271V-7.5 | 0.2-6 mm2/24-8 AWG | 1P - XXP | 630 | 41 | 300 | 40 | |
| DG271R-7.5 | 0.2-6 mm2/24-8 AWG | 1P - XXP | 630 | 41 | 300 | 40 | |
| DG271V-10.0 | 0.2-16 mm2/20-4 AWG | 1P - XXP | 1000 | 76 | 300 | 70 | |
| DG271R-10.0 | 0.2-16 mm2/20-4 AWG | 1P - XXP | 1000 | 76 | 300 | 70 | |
| DG2710-10.0 | 0.75-16 mm2/18-6 AWG | 1P - XXP | 1000 | 76 | 600 | 51 | |