Asix Electronics Embedded Network/USB SoCs
Embedded Wi-Fi SoC
This solution is those micro-controllers, which already integrate both Ethernet and Wi-Fi Connectivities, the so-called single chip SoC solution. The AX110xx family is the world's first high-performance 8-bit microcontroller to deliver the 10/100Mbps Fast Ethernet MAC/PHY, the TCP/IP accelerator, and the flash memory in a single chip. With this highly integrated system-on-a-chip solution, the AX110xx family provides a very small form-factor solution to enable embedded system designers to design compact, low-power, high-performance, yet low-cost, embedded and industrial Ethernet applications for the growing embedded networking markets.

Fig 1 Network MCU Connecting Directly to the Internet
Embedded Wi-Fi SoC Ordering Information
| Part No. | Embedded Flash (bytes) | Embedded Data RAM (bytes) | 802.11a/b/g WLAN MAC/Baseband | Ethernet MAC (Mbps) | Ethernet MAC Interface | Package | Temp Range | Purchase |
| --- | --- | --- | --- | --- | --- | --- | --- | --- |
| AX22001LF | 1M | 64K | Y | 10/100 | (Rev-)MII/(Rev-)RMII | LQFP-128 | 0 ~ +70C | |
Embedded Ethernet SoC
There is a growing need to add wireless network connectivity into embedded systems, such as adding remote control capability to embedded devices and enabling user's smartphone to take control over Wi-Fi. Machine-to-Machine (M2M) or Internet of Things (IoT) communications will be the primary market demand for the embedded networking system for the years to come.
The AX22001 is a single chip micro-controller with TCP/IP and 802.11 WLAN MAC/baseband. Leveraging prevalent Wi-Fi infrastructure in home and office environment, the new single-chip Wi-Fi SoC, AX22001, provides cost competitive wireless connectivity solution for bridging uncompressed digital audio data, compressed digital video data and serial/parallel user data through its versatile interfaces over the Wi-Fi network. This solution makes the devices very compact, and is suitable for home appliances, factory/building automation, industrial equipments, security systems, remote control/monitoring/management, and streaming media applications such as Wi-Fi speakers, Intelligent WLAN NIC, iPhone-controlled toys, POS terminals, vending machines, IP camera, Internet radio, automatic meter reading, environmental monitoring systems, network sensors, networked UPS, Serial(RS232/SPI) to Ethernet/Wi-Fi adapters, and Ethernet/Wi-Fi to ZigBee bridges, Ethernet to Wi-Fi bridges.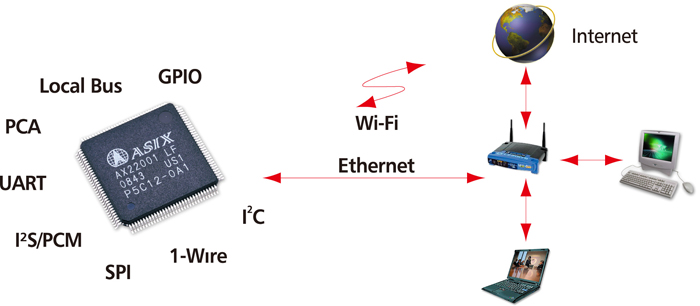 Fig 2 Wi-Fi MCU Connecting Directly to the Internet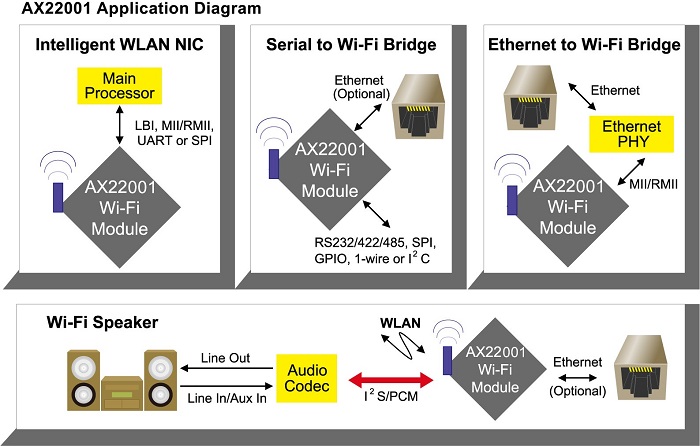 Fig 3 AX22001 Application Diagram
Embedded Ethernet SoC Ordering Information
| Part No. | Embedded Flash (bytes) | Embedded Data RAM (bytes) | Ethernet MAC (Mbps), Auto-MDIX | Package | Temp Range | Purchase |
| --- | --- | --- | --- | --- | --- | --- |
| AX11001LF | 128K | 32K | 10/100 | LQFP-80 | 0 ~ +70C | |
| AX11001LI | 128K | 32K | 10/100 | LQFP-80 | -40 ~ +85C | |
| AX11005LF | 512K | 32K | 10/100 | LQFP-80 | 0 ~ +70C | |
| AX11005LI | 512K | 32K | 10/100 | LQFP-80 | -40 ~ +85C | |
| AX11015LF | 512K | 32K | 10/100 | LQFP-80 | 0 ~ +70C | |
| AX11015LI | 512K | 32K | 10/100 | LQFP-80 | -40 ~ +85C | |