Asix Launches AX58200 - A Small and Easy-design EtherCAT Slave Controller SoC Solution
Response to the rapidly growing global smart manufacturing market demand, ASIX Electronics Corporation today announces a new generation EtherCAT Slave Controller SoC - "AX58200 2/3-Port EtherCAT Slave Controller SoC with 2 Embedded Ethernet PHYs" to provide designers a small package size (10x10 mm) and easy-design EtherCAT slave controller SoC solution.
The AX58200 is equipped with ARM® Cortex®-M4F core with DSP extension runs up to 192 MHz, embedded 512 KB dual bank Flash memory for supporting Over-The-Air (OTA) firmware upgrade, embedded 160 KB SRAM which includes 32 KB cache supporting eXecute-In-Place (XIP) to speed up the code execution from external SPI Flash. Factory pre-loaded 32 KB bootloader for secure boot, built-in 4 KB Secure Protection ROM for providing a safe space to save confidential program or data. Supports additional communication interfaces such as 10/100Mbps Ethernet MAC with RMII and hardware cryptography accelerator, HS USB OTG, SPI/UART/I2C/I2S/CAN/PWM, etc.
The AX58200 EtherCAT Slave Controller (ESC) integrates two Fast Ethernet PHYs which can support both copper and fiber Ethernet applications, embedded 9 KB RAM, eight Fieldbus Memory Management Units (FMMUs), eight Sync Managers and 64-bit distributed clock. AX58200 is interoperable with all EtherCAT systems with standard EtherCAT protocols such as CoE, FoE, VoE, etc. and is suitable for motor/motion control, digital I/O control, sensors data acquisition, robotics, EtherCAT IO-Link master, etc. industrial automation fieldbus applications.
The AX58200 is available in small 144-pin HSFBGA 10x10 mm, 0.8 mm pitch, RoHS compliant package and in operating temperature range from -40 to 85°C, -40 to 105°C.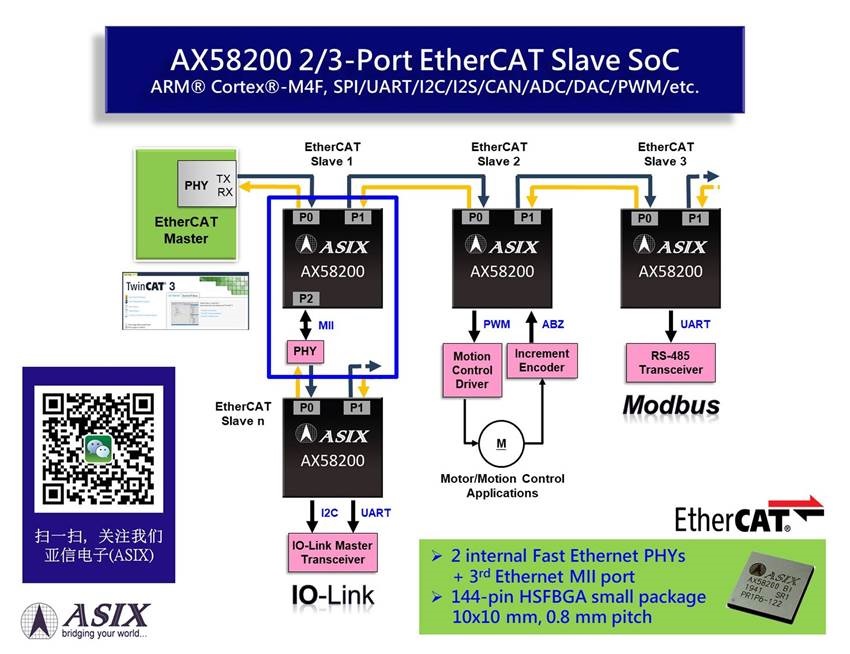 About ASIX Electronics Corporation
ASIX Electronics Corporation is a leading fabless semiconductor supplier with focus on networking, communication and connectivity applications. ASIX was founded in May 1995 in Hsinchu Science Park, Taiwan, and has been listed on Taiwan OTC Stock Exchange (TAIEX code 3169) since November 2009. ASIX products include EtherCAT/Industrial Ethernet ICs, SuperSpeed USB Ethernet ICs, Non-PCI/SPI Embedded Ethernet ICs, Interface ICs, RS-232/RS-485 Transceivers and Ethernet/Wi-Fi/USB KVM SoCs. ASIX has been certified as an ISO 9001 and 14001 suppliers. This achievement represents our continuing commitment to maintain a world-class quality system. For more information, please visit ASIX website: https://www.asix.com.tw/.
About NAC
NAC is a global electronic component design services & distribution company. Our rapidly growing linecard is being assembled to support the design needs of specific market segments including Mil-Aero, Industrial, Audio, Computing, Lighting, Medical, Telecom/Networking, Power, and Wireless. With resources that begin with Field Sales Engineers and extend to our Global Sales offices, NAC is building an infrastructure that ensures the highest level of service for our customers and authorized suppliers.
NAC Global Headquarters: 1790 Commerce Avenue, Saint Petersburg, FL 33716 TF- 866.651.2901 P- 727.828.0187 F-727.828.0160
NAC and its logos are registered logos to NAC Group, Inc. All product names noted herein may be trademarks of their respective holders.