ASIX will announce new EtherCAT Slave SoC solution in Q4 2019
ASIX Electronics Corp. is going to exhibit its new EtherCAT + IO-Link Master protocol stack solution and the latest AX58100 EtherCAT slave reference designs at China International Industry Fair (Shanghai) - Industrial Automation Show (IAS) 2019.
Response to the rapidly growing Industry 4.0 smart manufacturing market demand, ASIX Electronics exhibits its new AX58100 3rd party MCU EtherCAT slave reference design with ASIX own IO-Link master protocol stack solution. The ASIX IO-Link master protocol stack is developed based on the international point-to-point network communication standard (IEC 61131-9) for IO-Link smart sensors and actuators. This reference design provides a cost-efficient solution to reduce overall costs, standardized and reduced wiring, increased data availability, remote configuration and monitoring, simple device replacement, and advanced diagnostics.
ASIX Electronics exhibits an easy-design AX58100 EtherCAT slave motor control reference design solution based on STMicroelectronics X-CUBE-MCSDK motor control software development kit. ASIX also presents the other solution vendors' AX58100 development kits to provide clients more solutions to implement AX58100 on the target EtherCAT slave applications quickly.
To simplify the EtherCAT slave products design, ASIX Electronics is going to launch the first EtherCAT slave controller SoC in Greater China area - "AX58200 2/3-Port EtherCAT Slave Controller SoC" in Q4 2019. The AX58200 supports ARM® Cortex®-M4F uController and additional interfaces such as SPI/I2C/UART/ADC, PWM/ABZ/Hall encoder, etc. and can easily integrate ASIX own IO-Link master protocol stack to support IO-Link smart sensors and actuators on different EtherCAT slave applications.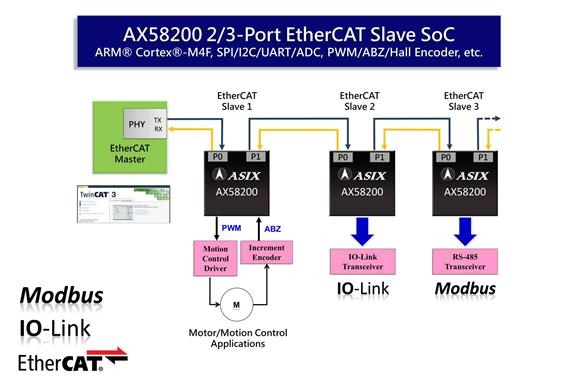 ASIX sincerely invites all valued customers to visit IAS 2019 ASIX's booth no. A018 at Exhibition Hall: 6.1H of National Exhibition and Convention Center (Shanghai) from September 17th to 21st, 2019. ASIX is going to present the latest EtherCAT + IO-Link Master protocol stack solution.
About ASIX Electronics Corporation
ASIX Electronics Corp. is a leading fabless semiconductor supplier with focus on networking, communication and connectivity applications. ASIX was founded in May 1995 in Hsinchu Science Park, Taiwan, and has been listed on Taiwan OTC Stock Exchange (TAIEX code 3169) since November 2009. ASIX products include EtherCAT/Industrial Ethernet ICs, SuperSpeed USB Ethernet ICs, Non-PCI/SPI Embedded Ethernet ICs, Interface ICs, RS-232/RS-485 Transceivers and Ethernet/Wi-Fi/USB KVM SoCs. ASIX has been certified as an ISO 9001 and 14001 suppliers. This achievement represents our continuing commitment to maintain a world-class quality system.
About NAC
NAC is a global electronic component design services & distribution company. Our rapidly growing linecard is being assembled to support the design needs of specific market segments including Mil-Aero, Industrial, Audio, Computing, Lighting, Medical, Telecom/Networking, Power, and Wireless. With resources that begin with Field Sales Engineers and extend to our Global Sales offices, NAC is building an infrastructure that ensures the highest level of service for our customers and authorized suppliers.
NAC Global Headquarters: 1790 Commerce Avenue, Saint Petersburg, FL 33716 TF- 866.651.2901 P- 727.828.0187 F-727.828.0160
NAC and its logos are registered logos to NAC Group, Inc. All product names noted herein may be trademarks of their respective holders.