ASIX Exhibits New AX58100 EtherCAT Slave Controller at 2018 IAS
ASIX Electronics Corp. is going to exhibit its new AX58100 2/3-Port EtherCAT Slave Controller solution at China International Industry Fair (Shanghai) - Industrial Automation Show 2018 (IAS).
Compared to other EtherCAT slave controller solutions, the AX58100 integrates two embedded Fast Ethernet PHYs which can support both copper and fiber industrial Ethernet applications and supports some additional interfaces such as Pulse Width Modulation (PWM), Incremental (ABZ)/Hall Encoder, SPI master, 32 Digital I/O, Emergency Stop Input, etc. for designers to easily implement AX58100 on different EtherCAT industrial fieldbus applications without extra microprocessor. The AX58100 provides SPI slave and Local bus Process Data Interfaces (PDI) to provide an easy way for system designers to implement the standard EtherCAT communication functionalities on those traditional non-EtherCAT MCU and DSP industrial platforms. The AX58100 provides a cost-effective EtherCAT solution for industrial automation, motion/motor/Digital IO control, Digital to Analog (DAC)/Analog to Digital (ADC) converters control, sensors data acquisition, robotics, etc. industrial fieldbus applications.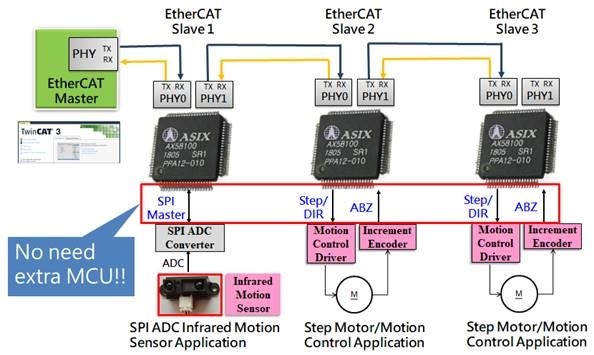 AX58100 EtherCAT Slave Controller Solution Demonstration
ASIX Electronics Corp. is a leading fabless semiconductor supplier with focus on networking, communication and connectivity applications and specializes in industrial/embedded network & I/O connectivity solutions. ASIX's main products include Embedded Ethernet Controllers (AX88796C/AX88180), SuperSpeed USB-to-LAN Controllers (AX88179/AX88772C), EtherCAT/Industrial Ethernet Controllers (AX58100), Embedded Network/USB SoCs (AX68004/AX68002), I/O Connectivity Controllers (AX99100/AX78140/AX78120), RS-232/RS-485 Transceivers and Embedded Wireless Modules.
Asix sincerely invite you to visit 2018 IAS ASIX's booth no. C062 at Exhibition Hall: 6.1H of National Exhibition and Convention Center (Shanghai) from September 19th to 23rd, 2018. We are glad to present ASIX's latest industrial/embedded network & I/O connectivity solutions for you.
About NAC
NAC is a global electronic component design services & distribution company. Our rapidly growing linecard is being assembled to support the design needs of specific market segments including Mil-Aero, Industrial, Audio, Computing, Lighting, Medical, Telecom/Networking, Power, and Wireless. With resources that begin with Field Sales Engineers and extend to our Global Sales offices, NAC is building an infrastructure that ensures the highest level of service for our customers and authorized suppliers.
NAC Global Headquarters: 1790 Commerce Avenue, Saint Petersburg, FL 33716 TF- 866.651.2901 P- 727.828.0187 F-727.828.0160
NAC and its logos are registered logos to NAC Group, Inc. All product names noted herein may be trademarks of their respective holders.